Dr. ARUNA MEHTA RESEARCH SCHOLARSHIP AWARD
To encourage academic excellence and research among postgraduate (PG) students, the Indian Prosthodontic Society has instituted the Dr. Aruna Mehta Research Scholarship Award.
This research scholarship award for the Postgraduate students in Prosthodontics of India has been proposed by Dr.Shanker Iyer under the aegis of Indian Prosthodontic Society in the honour of his
post graduate guide, late Dr.Aruna Mehta, a passionate and dedicated academician in the field of Prosthodontics.
Dr. Shankar Iyer has made a generous contribution to the IPS for strictly funding Research through this Scholarship Award. The main objective is to support and promote young minds for innovative
thought process and to stimulate research in our fraternity.
Scholarship Guidelines
This scholarship has to be purely used for research purpose only.
The 10 selected applicants for this year will be presenting their research project at the 23 rd IPS PG convention in a single session following which the best TWO research projects will be declared for the scholarship at the valedictory function.
The absence of delegate in valedictory function shall not entitle to receive the award.
In the absence of winner in valedictory function, the award cannot be transferred to the delegate in next position or it cannot be received by the authorized person / substitute. In such a situation, It shall remain un-awarded.
All decisions by the jury committee are final and any attempts by applicants to persuade the committee during the process will result in immediate disqualification.
The research scholarships awards carry cash prize as follows:
1 st Prize-INR 30,000
2 nd Prize-INR 20,000
The successful candidates will also have an opportunity to spend a week with Dr. Shankar Iyer in his practice in New Jersey, U.S.A. as preceptors and receive 40 hours of CE credits ($1500 value). The travel, accommodation and other expenses will be borne by the candidates.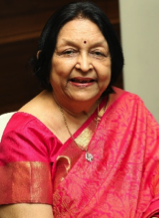 Dr. Aruna Mehta
Dr. Aruna Mehta completed her BDS and postgraduation in Prosthodontics from the prestigious Government Dental College & Hospital, Mumbai. She had a long academic career of 53 years where she climbed the ladder to Head the Department in G.D.C. & H. Mumbai and Nagpur and D. Y. Patil Dental College, Navi Mumbai.
An astute academician, Dr.Mehta was indeed a doyen of Prosthodontics, who guided countless students throughout her tenure. She defined human relationships through her actions, care and love and touched many lives. In her loving memory, IPS along with the association of Dr. Shankar Iyer has instituted the Dr. Aruna Mehta Research Scholarship Award as a tribute to his beloved guide and for the benefit of young enthusiastic scholars who wish to advance the field of Prosthodontics through research.

Dr. Shankar Iyer, USA
Dr. Shanker Iyer completed his Master of Dental Surgery in Prosthodontics from the University of Bombay in 1990. Later, he graduated with honors from the New York University College of Dentistry in 1994 and went on to pursue graduate studies in Prosthodontics from the same University. He taught as a clinical Assistant Professor for several years at NYU's department of Post Graduate Prosthodontics. Currently he holds two appointments in the departments of Periodontics and Prosthodontics at Rutgers' University Dental School, New Jersey.
Dr. Iyer is a Diplomate of the American Board of Oral Implantology/Implant Dentistry and a Fellow of the American Academy of Implant Dentistry. He has lectured in over 20 countries and presented at over 100 symposia in Implant Dentistry and Prosthodontics. He has several publications in peer-reviewed journals and mentors graduate residents to present posters and table clinics.
Dr. Iyer was inducted as a Fellow in the Royal College of Physicians and Surgeons, Glasgow and has Fellowships in reputed organizations such as the Greater New York Academy of Prosthodontists, and the Dental Facial Esthetics Academy
Besides teaching and treating dentists in the United States, Dr. Iyer has taught and trained over 900 dentists from around the world. He is the Director of the prestigious AAID Implant Maxicourse held in Asia with centers in Saudi Arabia, Abu Dhabi, New Delhi, Bangalore and Sri Lanka. He co-directs these courses in Las Vegas and at Rutgers, New Jersey.